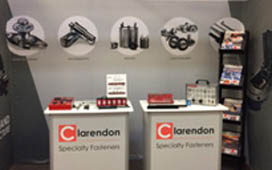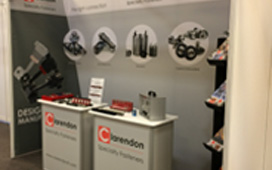 25 May 2017
A Seamless Production for a FAST Show
In exhibition display terms, the main shortcoming of the ubiquitous "shell scheme" system is well-known – that is to say its display-inhibiting vertical poles - and for anyone wanting to circumvent this, the solution can be expensive, possibly even requiring a fully built stand.
So, when long-term client Clarendon Specialty Fasteners asked us to create a "seamless" look to their stand at the recent FAST Exhibition at the National Motorcycle Museum, we knew we had a task on our hands, as this exhibition offered only shell scheme stands, all of the same dimensions.
Although the exhibition lasts for just one day, it is a key event for our client to showcase their growing range of bespoke fastening products and we set about investigating different methods of simulating a solid wall stand – one that would comply with the organiser's stand specifications and our client's request. Because of the short duration of the exhibition and the restricted space allowance, it was also necessary to ensure that any display costs were kept in proportion.
Our solution was a system that makes use of a very stable material, printed using a dye sublimation process to create a seamless visual that, as can be seen from the photographs, not only looked extremely effective but was also installed in minutes. Dismantling is just as quick and the display can be folded and stored away safely for use next time, with no specialist skills required.
BACK TO LISTING