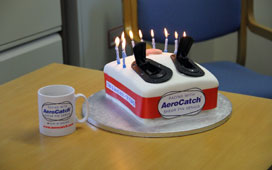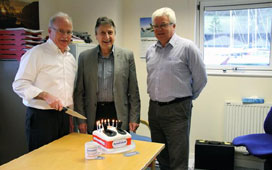 14 April 2015
CMA and AeroCatch celebrate 10 years of success
In 2005, Specialty Fasteners of Totnes in Devon, had come to a point in their fourteen year history where they were about to make a breakthrough in motorsport panel fastening.
Peter Boote, engineer and founder of SFC had spent 18 months in close collaboration with Exeter University in developing his idea for a panel fastener to replace the traditional "sliding pin", used to secure the bonnets of most forms of touring cars, sports cars and rally cars. The product was given the name AeroCatch and in March 2005, Peter and his sales manager, Graham Leo, decided that it was ready for market. To create the right level of awareness, they felt they needed to hire the services of a professional marketing agency that would have an intimate knowledge of the motorsport market and made the historic decision to entrust the branding and launch to CMA.
The first 5 years
Under the guidance of Geoff Cook, CMA set about building the profile for AeroCatch through a marketing campaign encompassing PR, advertising, permission marketing, exhibitions and video, with SFC gradually building up a network of distributors, taking it global, as the product found universal motorsport appeal.
The next 5 years
Peter Boote is not one to rest on his laurels and soon began to develop variations: for hatch and door latching – AeroCatch 2 – ideal for marine applications. Then came AeroCatch 3, a shear and tension latch version developed especially with sportscar and GT car applications in mind, followed by the launch this year at Autosport International of AeroCatch Xtreme for serious rally and extreme off-road events. And now, with AeroCatch 4 waiting in the wings to launch into the next 10 years, it is anticipated that soon championships around the world will begin to make the AeroCatch brand mandatory safety equipment for secure panel fastening.
Celebrating 10 years
There's always been an element of fun on the agenda, working with Specialty Fasteners, and CMA specially commissioned a celebratory cake which was presented at the SFC HQ in March to mark the occasion. Geoff Cook is pictured presenting the cake, flanked by Peter Boote (with knife) and Graham Leo.
BACK TO LISTING