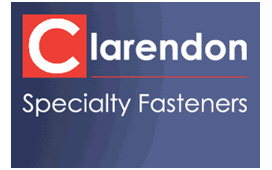 28 February 2017
CSF Name Change
Clarendon Specialty Fasteners was trading for over 20 years as Specialty Fasteners, before being acquired by Clarendon in 2014, resulting in the new company name Clarendon Specialty Fasteners.

Clarendon Specialty fasteners have been a client of CMA since 2005, Established since 1982, Clarendon specialize in a niche market in the engineering industry supplying top quality seals and fasteners. They cover a wide variety of markets including Aerospace, Motorsport and High Performance Automotive, Military and Industrial.
Clarendon Specialty Fasteners are proud of their high level of customer's service and the products provided are carefully selected to meet the wide diversity of customer requirements, also working to international standards and specifications. It's highly likely that the plane you last took your lovely holiday on had many components made by Clarendon Specialty Fasteners.

The race cars you enjoy watching, CSF provide many components on those cars too. In fact, in this market they are recognised as industry's premium supplier of fasteners, seals and components.

For more information and the chance to win two race tickets visit http://www.aeroloc.co.uk/aeroloc-challenge

www.clarendonsf.com
BACK TO LISTING