Case Study: Controlled Power Technologies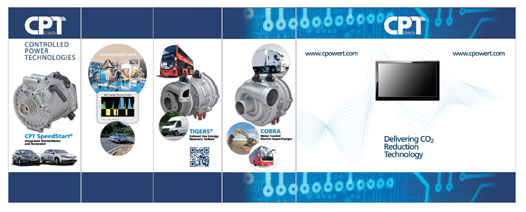 Controlled Power Technologies (CPT), an advanced automotive research company, had been developing three new technologies aimed at reducing fuel consumption and emissions for motorised vehicles for the past five years. With two of these products being validated and near-production ready, CPT engaged with CMA to expand and co-ordinate their marketing activities.

CMA is currently engaged in an in-depth programme with CPT, to aid them both strategically as well as practically with all their marketing efforts. The immediate priority was to enhance the presentation of CPT at events, as CPT exhibit at high-profile shows across the world. CMA set to work on designing a modular, flexible and portable display unit, with panels designed in such a way that up to 6 different configurations, flat as well as L-shaped, were possible.

"We are very pleased with CMA Silverstone's support for our events. Even though there is not always a lot of time to get things done, they always ensure that we have everything we need on time, and the events are a great success for us," commented CPT CEO Nick Pascoe.

"Our first ever US show in particular was a huge success and the stand looked very smart. CMA looked after all our requirements and arranged everything with local contractors in the US, which saved us a lot of time and effort, so we are very pleased."

In addition the exhibition work, CMA produced a new website, ads, flags, pens, hand-outs and corporate pins as well as a number of different product brochures.
View the SpeedStart brochure here.
View the TIGERS brochure here.
View the COBRA brochure here.
View the 48V DL hand-out here.