Case Study: FHS Website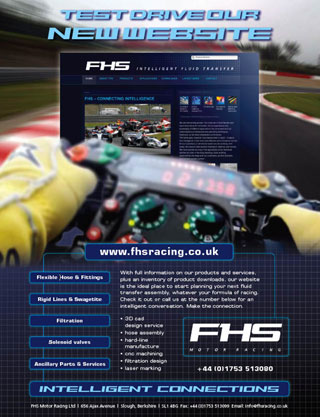 FHS Motor Racing, based in Slough, specialise in high-end fluid transfer solutions for motorsport. Their products cover flexible hose and fittings suitable for high or low pressure oil, fuel and water applications, together with hardline assemblies used by major Formula One teams. In order to create a shop window for their products and techniques, FHS commissioned CMA to plan and develop a new website as a point of reference for prospective customers.

Continuing on the theme of "Intelligent Connections", developed earlier by CMA as a positioning strapline for the company, together with a technical gridline approach to the supporting graphics, the website demonstrates clearly FHS' target sectors and applications, in addition to a comprehensive product directory. The website has had traffic directed to it by means of advertising, PR, SEO and email marketing.

The site was being used well after its launch compared to the existing site and the visits, before any publicity for the site was undertaken, showed that it was indexing well with the main search engines (Google etc), that is to say, organic searches – a main objective. Statistically impressive were the key indicators - the initial number of visits and the number of pages viewed.
View the website here.