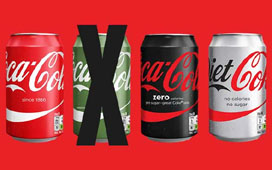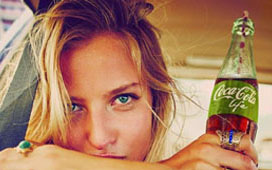 26 April 2017
End of Life
As predicted at the time by Marketing Week's Mark Ritson, Coke Life has bitten the dust after 3 years of disappointing sales after an encouraging launch. How did a marketing behemoth like Coke, arguably the strongest brand in the world, get it wrong?
Upon its launch in 2014, Marketing Week's Mark Ritson, said "Coca-Cola's new product, Coke Life, looks like a dud." In fact, he went on to say "Coke Life, ironically enough, spells the start of the end of Coca-Cola." While it is fair to say that the second statement can still be seen as far-fetched at the moment, the first statement is undeniably true with the news that Coke Life is to be withdrawn from major markets in June 2017.
The UK is one of these markets, but many consumers won't particularly notice as many retailers are already no longer stocking the product. Although this is not the first time that Coca-Cola have made a significant marketing miss-step (some of you may recall the ill-fated New Coke launch), it is still very surprising to see a marketing colossus like Coca-Cola drop the ball so significantly.
So what happened?
The sales figures tell an interesting tale: in the 12 months leading up to March 18th, Coke Life sales fell by 73%, whereas sales of Coca-Cola Zero Sugar grew by 81.2% in the same period, a rather clear indication that people prefer no-sugar drinks to less-sugar drinks. This much was actually predicted by Ritson in 2014, and even though the marketing campaign for Coke Life was actually brilliantly executed (as you would expect), the simple truth of the matter is that Coke Life was just a product that nobody was really waiting for. Apparently, people want sugar or no sugar and not something half-way. So in Coke Life they launched the wrong product, but how did it get to that in the first place?
The answer lies in the steady decline of the heartland market. The US have seen declining sales in soft drinks year on year for the last 10 years. The bulk of Coke's strong sales comes from the developing countries, as in the developed world, most customers have become more health conscious and moved on. This means that Coca-Cola is fighting hard to re-capture its sliding heartland markets and this leads to experiments, trying the find the Coke variant or format that people actually want to buy.
In tandem with this is the return of an ancient beverage marketing trend that both Coca-Cola and Pepsi have failed to capture; "functional beverage marketing".
Fall of an Empire
Ever since Red Bull started giving people wings, we have juices for health, Gatorade for sport, teas for calm, etc, etc. People buy drinks because the drinks "do" things, like helping them focus, recover after sport, or help them look after themselves. And what does Coke do? Well, it tastes real nice.
Of course, the origins of Coca-Cola are as a functional drink in that it was marketed to cure ailments of all kinds, so to prevent Mr. Ritson's second statement coming true, perhaps Coke should go back to its roots….
BACK TO LISTING