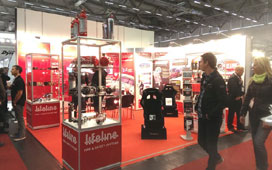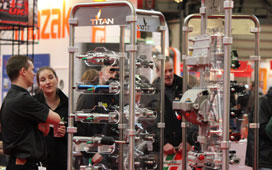 08 September 2014
Getting ready for the Shows: the CMA checklist
Yes, folks, it's getting ready for showtime again!

Even though summer is really still in full swing, it's time for preparations to get under way to ensure you are fully equipped for the 3 month motorsport "shop window" that extends from November to January.

You will no doubt have new or improved products to bring to market and your focus at the moment will certainly be on fine tuning the R&D to ensure they perform faultlessly. But our job as marketers, is to support our clients by relieving them of the burden of planning all the peripheral marketing activities, so that they can concentrate on the engineering.

So, to help smooth your way into showtime, we thought it would be a good idea to give you a checklist to make sure you don't miss anything:

1. Exhibition Display
Assuming you have already booked your stands, consider any necessary redesign to accommodate the new products or to upgrade tired graphics.

2. Collateral material
New products will need fact sheets.
Does your company positioning brochure need updating to include new products?
Is your video showing the same facilities that it has done for the last 4 years? There's still time to upgrade it! (and we have a special offer on for MIA members as well as NCC members.)

3. PR
Make sure the exhibition organisers know about your new products - they can give you free coverage in their own show pre-publicity.
Ensure your press release about the products and your show attendance is issued to the widest audience possible - motorsport is now filtering into a number of other lucrative areas - defence, marine, aerospace etc.
Note that many print magazines have very long lead times; check our timetable below to make sure you don't miss the boat.

4. Advertising
Your presence at the various shows and the press releases you put out need the support of advertising and you will need to get your ad to the publications much earlier than you imagine.
To help you, check out the timetable below which shows how far in advance you have to work. Online advertising is, of course, not subject to the same deadlines but the timing of messages in online ads will be very different to print magazines.

Main motorsport engineering magazines are as follows. Other monthly magazines will follow a similar pattern.
| | | | |
| --- | --- | --- | --- |
| Cover date | On sale date | Copy date | Show preview |
| November | 5 October | 21 September | |
| December | 5 November | 21 October | PMW |
| January | 5 December | 21 November | PRI |
| February | 5 January | 14 December | ASI |

5. Email marketing
Finally, make sure that you send out a chatty, informative email to your database a week or so before each show, telling your customers and prospects where you will be exhibiting and what you'll be showing.

........and remember - if you do need any help with planning your show season, we will be happy to discuss it with you.
BACK TO LISTING