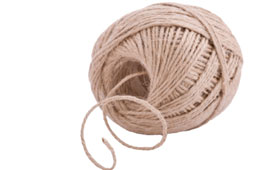 10 March 2015
How long is a piece of string?
One of the most common marketing challenges we have found, that tests the owners of businesses, is that of setting a budget for marketing, because of the many ways there are to set about it.
Our belief is that a marketing budget, however arbitrary it may seem to start off with, is just as essential as knowing what your estimated energy usage will be for the year, or your vehicle fleet running costs. Marketing is what drives sales, without which, all the other areas of the business cannot function.
WHERE DO WE START?
It depends to a great extent on the industry you work in. If your business is in a direct response market – for instance home improvements – your budget will relate more to what sales you expect to achieve from a campaign. And that will naturally relate to what sales targets are achievable and whether your production can meet the demand. Typically, this market sector would be looking to work on a budget of 10% - 20% of sales. Put simply, you should expect to sell £10,000 worth of goods for every £1,000 - £2,000 you allocate to marketing.
However, most of the businesses we work with tend not to be in the direct response sector – in fact, technical and professional is quite the opposite. And because it is difficult to estimate and quantify any response in this sector, it is in turn, a difficult exercise to set a budget. But we have our method which comprises of analyzing an amalgam of influencing factors on the business:
Your industry
The competition
Your turnover
Your profit margins
Growth plans
Product or service status
Affordability
STARTUP, ESTABLISHED BUSINESS OR DIVERSIFICATION?
These are just three of the many stages of life your business could be at, with each one of them requiring a different marketing strategy and a different way of looking at your budget requirements. Affordability is a limiting factor and we would always look at what activities need to be implemented and see what it would cost to do the job; then working backwards, calculate with our client what sales would need to be achieved to pay for it all.
JUMPING ACROSS THE CHASM
One sure analogy is that, when jumping across a chasm, you must ensure you take a long enough run-up to be able to land the other side. You can't jump halfway.
Run-up = marketing budget;
The other side = sales target achieved
This means that we would always advocate setting aside a sensible enough budget to achieve your goal. But unlike our "chasm" analogy, if you find you are achieving your aims halfway through the campaign, you can always throttle back on the spend a bit. But if you put too little in at the beginning (the "run-up"), you won't be able to address the issue with extra funds if the sales targets don't look as if they will be met ("the other side"); it will be too late.
See you on the other side.
BACK TO LISTING