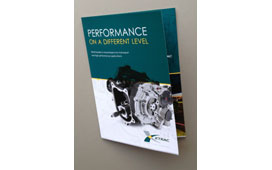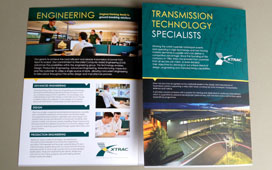 09 February 2016
Just Like Baking a Cake...
Just before the show season got under way last year, one of our clients – Xtrac – asked for our opinion on the relevance of a company brochure in this digital age, as they felt their existing brochure was in need of replacement. Since its publication, the company has invested heavily in new machinery and had also diversified into other markets; the message clearly needed updating.
Part of a balanced diet
Our research showed that long-copy, multi-page company brochures were rapidly becoming outmoded, as business people increasingly access information digitally via internet-based devices. This is not to say that there is no place for a brochure any more; handing a piece of literature to a prospective customer ensures there is always a physical reminder when their iPad is switched off. However, in tune with the way people read on-screen, the brochure should have powerful images, supported by sufficient text to get the point over.
What sort of cake?
The concept we recommended was to create a stylish positioning brochure in a 6-page "roll-fold" format. We would be able to distil all the required information into this, giving the reader beautifully-presented bite-sized pieces of information that he or she could digest quickly, taking in the ethos of Xtrac through the manner in which it was portrayed. Here's our recipe, if you'd like to try it yourself:
Let's bake!
POSITIONING BROCHURE
You will need:
1 understanding decision maker
1 creative agency
1 professional photographer
1 'can do' printer
Ingredients:
One strong headline to position the company
A selection of high quality photos
Supporting text
Cutting edge graphics
Superior quality card
Agency Method
Discuss running order of information with client and agree concept.
With concept agreed, place ingredients in a suitable container and create a working design visual to present to client.
Following feedback from client on overall flavour, make adjustments to the creative mix.
Fold in photos, shot by commissioned photographer, and mix well.
Add the copy and graphics to the photos, blending thoroughly.
Place the mixture with top printer for 4-5 days, allowing extra time for delivery.
Finally, await notification from client that the brochure has arrived on time: this is always the icing on the cake!
Serve generously to visitors at exhibitions and events.
If all this sounds like a piece of cake, it's because of our experience. Contact us if you would like a master baker to help you with yours!
BACK TO LISTING