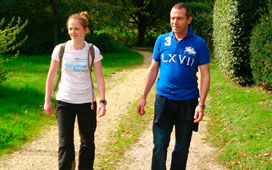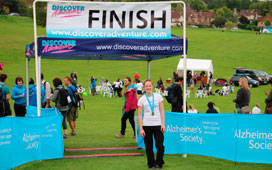 10 September 2015
Kirsty Takes on Stonehenge
On Saturday 5th September, Kirsty Young, 22 from CMA Marketing, took on a demanding trek from Salisbury, along medieval trading routes, rolling hills, steep valleys and past Stonehenge as part of a fundraising effort for Alzheimer's Society. Kirsty set out to raise £250, however, managed to almost triple her target raising a staggering £738. She completed the task in 9 hours and 3 minutes, coming in 141st out of over 700 participants.
By taking part in the 25-mile trek Kirsty has helped contribute towards the support of over 800,000 people in the UK who are suffering from one form of dementia or another.
Participating in the event had a very personal significance for Kirsty, as she explains: "I decided to take part in Stonehenge Trek for Alzheimer's Society after losing my Grandpa in June.
"I'd really like there to be some good come out of our sad situation and raise money for others affected, in the hope that one day there is a cure and nobody has to go through what my Grandpa and family have gone through in the past few years.
"It was wasn't as easy as I had anticipated, especially as I got blisters 4 miles in and hit my wall at mile 11. Despite this I was very determined to reach the finish and continued on, where my Dad and Boyfriend took it in turn to walk sections with me.
"I would like to thank all of my family, relations, friends and colleagues who have donated - your generosity has been overwhelming. I'd also like to say a huge thank you to my family who have not only supported me in the lead up to the walk by collecting donations but also travelled over 400miles to surprise me at the half way point."
Jeremy Hughes, Chief Executive at Alzheimer's Society, added: "We are delighted that Kirsty has given her time to support Alzheimer's Society. One in three people over 65 will die with dementia. It is more than just memory loss; it robs people of their lives and has a devastating impact on families and loved ones. As a charity, we rely on the generosity of individuals like Kirsty to help us continue our vital work."
BACK TO LISTING