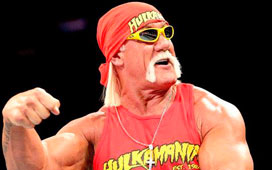 13 August 2015
Marketing With The Stars (Part 3)
Whacha Gonna Do???
Over the last two editions, we've discussed the fluctuation of the Top Gear brand following a change of management/presenters and we learned something from Kim Kardashian. Kim may be a very modern operator when it comes to the celebrity brand management game, but others have paved the way before her, not least of them being the man himself; Hulk Hogan.
Hulk Who?
Over the years, we have seen a number of sports stars transcend their sport and achieve truly global fame. Not everybody likes Basketball, but everybody does know who Michael Jordan is. Likewise, Tiger Woods, Mike Tyson, Michael Schumacher and Roger Federer are all names recognised by many more people than are fans of their respective sports.
In all cases, these stars operated at the very peak of their sports at one point or another, but the true global fame came from being pushed by a brand and copious other endorsement deals (Michaels Jordan and Schumacher), being the face a global shaving company (Federer), engaging in questionable behaviour (Tyson), or a combination of all of the above (hi, Tiger!).
It is not very often however, that a star at the top of his or her profession maximises their exposure and manages their brand so well that they are still the biggest name in the game several, in Hogan's case actually over 30(!), years after reaching the top. Even today, a good 12 years after retiring as an active wrestler, Hogan is still a household name, having carefully built upon his brand identity and embracing trends as they come along (he is an active social media user and jumped on the reality TV bandwagon at just the right time for example). So "Hulk who?" said nobody, ever.
Hulkamania or carefully planned and executed strategy?
At the height of his fame, Hulk adopted his fan-base as Hulkamaniacs (something which modern female popstars have only started doing fairly recently) and unleashed Hulkamania and all its associated tat (sorry, merchandise) upon the world. The caps, bandana's, t-shirts, flags, mugs, action figures, video games, bags, restaurants, plastic hammers, blenders (not kidding, the Hulk Hogan Thunder Mixer, look it up), grills, energy drinks, burgers, films, TV series, music CD's and more have made Hulk a huge amount of money alongside his not inconsiderable wrestling income.
The key to this success? A carefully managed strategy to position Hulk Hogan as the All-American Good Guy, and being incredibly consistent with the messaging, from the "American values" he mentions in virtually every speech, through to the motions and moves (like ripping off the t-shirt), the colours he wears and even his famous blonde moustache; it all serves to reinforce the image of Hulk Hogan as the man they know and love.
Being consistent with your branding is one thing, but the longevity comes from the careful management of crisis; he was involved in a doping scandal, went through a messy and costly divorce, had a sex-tape leaked and even last month he got into hot water for another leaked tape where he is alleged to have made racist and homophobic remarks. All these various scandals he has managed to sail through even though many a lesser man would have buckled (hello again Tiger and Mike Tyson!)
Although it is not quite true that there is no such thing as bad publicity, having professionals in your corner to make sure that troubled waters are navigated and opportunities seized can make all the difference!
BACK TO LISTING