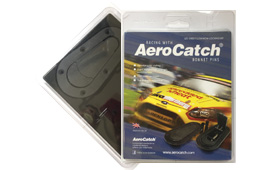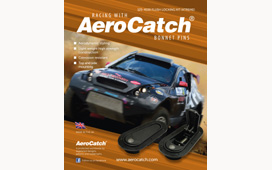 26 April 2017
New Packaging For AeroCatch
The evolution of a leading motorsport brand
The story of AeroCatch began back in 2005 when engineering entrepreneur, Peter Boote, finalized development of a revolutionary panel fastener designed to replace the existing and outdated "sliding pin" bonnet catch that had been around for many years.
Its major USP was in the shear pin which was hidden from sight and, with the catch in the locked position, it located into the strike pin underneath the panel. Safer, more secure and aerodynamic. The packaging of a pair of AeroCatches presented a problem, however, since the product needed to be visible and, when secured into the card inner, they left very little room for any graphics.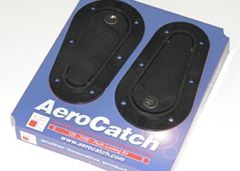 Despite the packaging shortcoming, AeroCatch began to take off, finding markets as diverse as military vehicles and offshore powerboats, in addition to its motorsport target audience. And with a growing aftermarket in both Europe and the US, it was decided in 2012 to create a more exciting pack and so a series of packs was created for each of the expanded range – Original AeroCatch, AeroCatch 2, AeroCatch 3 and AeroCatch Xtreme.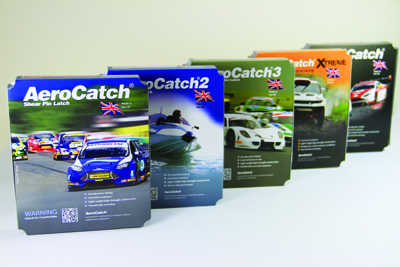 Inserted into a clear PVC clamshell, the decision was taken to make the specific AeroCatch application the feature of the graphics on the front of the pack, with the product being visible through the back.
However, in 2016, with global sales now reaching a point where it was clear that there would be a need for a separate pack for each part number, it was decided to review the way the brand and the product were displayed.
DIGITAL PRINTING TO THE RESCUE!
With the advent of litho quality digital printing from a database, a unique solution presented itself. We could create a design suited to each product version and include, as a part of the design, not only the part number but also a photo of the corresponding product – different on the front of as many packs as required by the sales demand.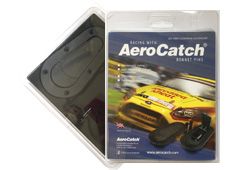 So, instead of having to order a minimum print run for each part number, we could order as few or as many of each as our client required. For example, the first print order had some part numbers requiring only a few hundred, while the big sellers had many thousands. And all done from one print run; no stopping and starting - and a print bill so low for the complexity of the run that would have been unthinkable, even five years ago. A fact not lost on the brand owners, Clarendon Specialty Fasteners!
BACK TO LISTING