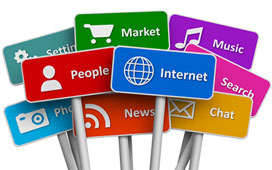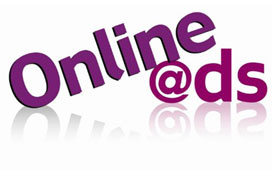 11 December 2012
Online Media Buying – Blinded by Science?
We've focused on traditional media in the last couple of our articles on advertising but increasingly, online advertising – that is to say, advertising on websites, e-magazines etc – is becoming more important.
It's fair to say that the main reason why a lot of businesses are wary of taking ads on websites is because of the air of scientific mystery that seems to surround it. Also, there are many websites that sell their space by an arbitrary amount per month, quoting monthly numbers of hits the website gets as a justification for their rates. The more switched on websites base their rates on the number of unique views your ad gets – much more sophisticated and significantly more quantifiable.
So, in this article we will cover what the benefits of online advertising are and what is on offer; next month we'll explain how it's done.
The Benefits
There are a number of reasons that you should consider online advertising and which make it so effective:
1. Immediacy – within hours, or even minutes of your ad going live, you can begin to notice results as viewers of your ad click on it (a clickthrough) and are taken through to your website, direct to the product or page you are promoting.
2. Flexibility – depending on your arrangements with the media owner, your ad can be moved to alternative areas on the website to maximise the opportunities to see your ad (OTS).
3. Economy – because you can see on a daily basis how your ad is performing ie. how many clickthroughs have been generated, you can easily quantify the ROI, something that can take months with printed publications. If a product or service is not going to sell for what ever reason, the sooner you know about it, the better.
4. Statistical predictability – once you know how many clickthroughs have been generated from the different positions in which your ad is appearing on the website, you can analyse the statistics to identify where is the best position for the ad to be placed in the next phase of the campaign.
Types of Ad
There are various types of ad that appear on websites but the main ones are: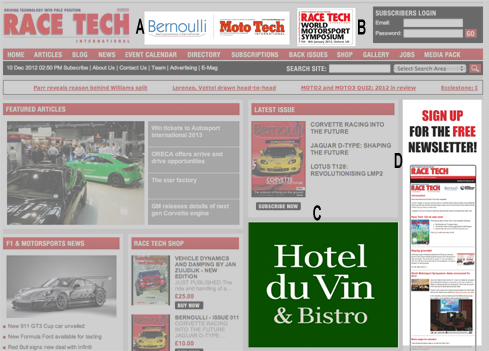 A. Banner ad
B. Button ad
C. MPU (Mid Page Unit)
D. Skyscraper ad
Media Currency
Owners of websites generally sell advertisements on the basis of cost per thousand impressions (CPM), where an impression is when someone opens a page on the website where your ad is displayed. Hopefully, your ad will be engaging enough to encourage the viewer to click on it and be taken to your website.
Next month, we will demonstrate how online media can be bought effectively.
BACK TO LISTING