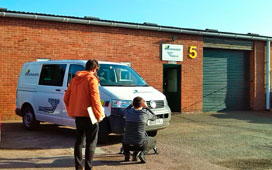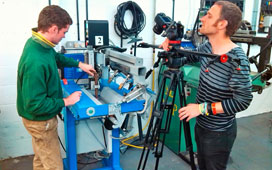 20 January 2015
Shooting to Thrill
A few months ago, CMA embarked on a video production project for BTB Exhausts. The aim was to produce three videos showcasing BTB expertise in their key areas of motorsport, historic and engineering.
Before the shoot commenced, much effort was put into scripting the videos in order to make sure all the right messages were conveyed. As producing a video can be a costly exercise, we believe it is critical to ensure that everyone agrees what the key messages are and how these will be conveyed. In the case of BTB's Motorsport video, we wanted to showcase the various production methods that BTB employ and clearly demonstrate the expertise that exists within the company.
After producing a detailed script for the voiceover, a shot list was produced to outline what footage and on-screen elements were required for each section, thus creating a detailed visual script. A recce of BTB's premises aided greatly with this, so that subject areas, shooting angles and on-site logistics could all be determined.
Upon approval of the script and shot list, the actual shoot was arranged. All shots were carefully planned and scheduled in order to make the most of the filming day. Joe Ellis and his team at BTB were extremely helpful and the day ran very smoothly, allowing us to capture everything that was needed in the single day.
As BTB Exhausts have worked with ITV-4 presenter Rebecca Jackson on her car, Rebecca agreed to produce the video introductions, as well as the voice-over. Rebecca and her team shot the video introduction on-site at Silverstone and sent the footage through for us to use.
Early in the planning process it was decided to opt for animated "car shots", when talking about some of the series that BTB work in. The team at CMA and Joe at BTB worked together to assemble a library of suitable vehicle images, which were then prepped and animated. Joe also provided a number of CAD animations of BTB designed products for use. CMA hired a photographer who built a mobile studio at BTB's premises to shoot a range of products and finally, Rebecca attended to provide the voiceover, completing the list of ingredients for the videos.
A first rough edit was produced to match all the footage to the visual script, paced not only to the chosen music but also to ensure that all the key messages were in place. Pacing a film is of critical importance, so matching up the footage, music, animations and voiceover into a coherent whole can be a tricky job. Only minimal changes were needed however, demonstrating the value of the pre-production work in establishing a detailed visual script.
The final result can be seen here.
BACK TO LISTING