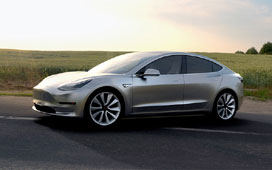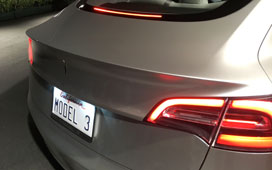 28 April 2016
Tesla Don't Advertise
Most of us will of at some point will have come across the company Tesla Motors. Despite the fact that they do not advertise, this American company is leading the way on how to use marketing effectively.
You may now be thinking my heading is contradictory but that's not the case. When we tell people we are a marketing company, the initial reaction from most people is 'I'm not interested in advertising'. However, that is just a small section of what marketing is.
Tesla do not use advertising to promote and sell their cars yet are still very successful. Some of you may now be thinking that's great, we can save money, sit back and do nothing and still sell products. Unfortunately that's not the case.
The Model 3 example
March saw the launch Tesla's Model 3, the company's first mainstream affordable electric car. Production is scheduled for late 2017, however, anticipation for this new car is huge and the company has broken records with its list of reservations that has only been open since 31st March.
In the first week, the company received 325,000 reservations which relates to $14billion worth of future sales. This staggering figure is the biggest 1 week launch of any product ever and is impressive at the best of times but when you consider they haven't even advertised the car it makes the result even more impressive.
So what are Tesla doing if they are not advertising?
Clearly Tesla have the right marketing recipe and companies all over the world will be looking to replicate this with their own products and in all honestly it couldn't be simpler.
They have perfectly demonstrated how to effectively use a PR based strategy to organically let their car grow momentum in the market place.
What is a PR strategy?
PR, whether that is online or offline PR, is all about making sure that you (the company) gets its message in front of the correct target audience.
If the strategy is executed correctly it will create a buzz that will then be picked up and promoted by other people and companies via websites, social media, television and other online and offline media. The only difficulty in this strategy is how do you stand out from a crowd and engage your audience?
PR Strategy Checklist
Have you identified your target audience?
If you haven't already done so, you should make sure you know who you are aiming the product at. Ideally these people should have been identified in your business plan; however if not, consider age, sex, where they live, are they likely to spend time online – if so where? - also communication channels and any relevant key words or information that may determine how you connect with them.
Have you used the basic SEO principles to your advantage?
If the best communication route is online, it is possible to take into consideration some of the points from above and choose key words and phrases to help gain exposure when your target audience is using a search engine. These phrases and words should be included throughout the copy.
What is your message and is it clear?
If you know what you're selling and who you're selling it to, you clearly know why it is relevant to them. Make sure you emphasize why it is relevant to them. Make sure you clearly identify any problems that you have solved with your product and list the benefits. But the most important thing is making sure your communication is clear - list the facts and ultimately lead them back to your website where they can get more information and purchase your product.
Have you defined your goals?
What are you setting out to achieve and have you covered this in your message? It should be clear if you have covered it or if in fact you have not covered it because, as we said above, your message should be very clear. Examples of some goals could be as follows:
Increasing brand value – give valuable information, make sure you provide all the facts, be professional, provide a different angle of approach about the product or industry, be controversial and use quotations or info graphics and other ways to back up and show your point.
Generate leads and more sales – be eye catching, have a competition or free give away, provide solutions to problems you know the customer faces, create urgency by suggesting limited stock or stock selling out.
Is your press release topical or trending?
Is your press release topical with what is going on in the world of current affairs? Ride the wave and use these topics to generate some interest and engage people. There are several sites that you can use to see what is popular and trending - for example (www.google.com/trends) - and similar sites for what's trending on social media. Make sure you research these for your chosen media and make sure you are aware of what is popular.
How to get results
Understandably, Tesla are in a very unique situation as they are leaders in their field and are a luxury brand and they are transferring the same technology from their luxury cars into an affordable car which will gain a lot of exposure and interest for very little effort. In most other cases there is a lot of competition in the market and you need to fight to make your product noticed. This means that marketing as a whole is undeniably important and generally speaking, a combination of PR and promotional activities should be used in the marketing mix to gain maximum effect.
If you are in any doubt what your strategy should be please get in contact; we are more than happy to point you in the right direction.
BACK TO LISTING