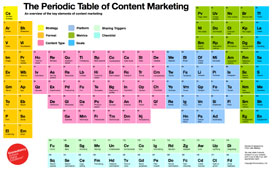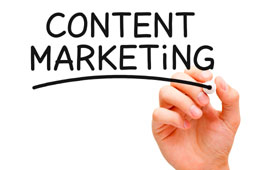 31 March 2016
The Periodic Table of Content Marketing
You are probably aware of the good old periodic table. It is a useful tool used by scientists the world over to analyze chemical behavior. However, with a few creative tweaks it can also be used to help you formulate a successful content marketing strategy, here, we explain how and provide you with a handy 7 step guide….
What exactly is content marketing?
Content marketing is a strategic way of creating and distributing valuable and relevant content to attract a targeted audience which in turn should drive business.
It is a very non-intrusive marketing strategy and works well as it is the art of communicating with your customers and potential customers without actually selling the products to them. Rather than selling your services or products you are providing them with information and making the prospect more knowledgeable in the particular field that you are working in. Many people may think this will allow the prospect to be able to do/make the service or product themselves however this is not necessarily the case. If companies are open with information about their product and service and show that they know everything there is to know about the industry the prospect is more likely to accept you as the expert in your field and is therefore more likely to turn to you if and when help is needed.
Many companies around the world make use of this strategy. Why, you ask? Simply because it works. A good example of a well-known company making use of content marketing is Colgate. Most people who clean their teeth (I hope that is everyone!) will have heard of Colgate the dental brand. They have an online Oral and Dental Health Resource Centre that contains information guides, videos and much more to inform every one about dental care and hygiene. In turn, using their valuable knowledge to educate people but also comfort them that they are the brand leader in oral hygiene and they can be trusted.
So you now know what content marketing is, but may be wondering how to go about it.
We are going to give you 7 steps that you can use to devise your own content marketing strategy, based on the periodic table. The Periodic table of content marketing, that is.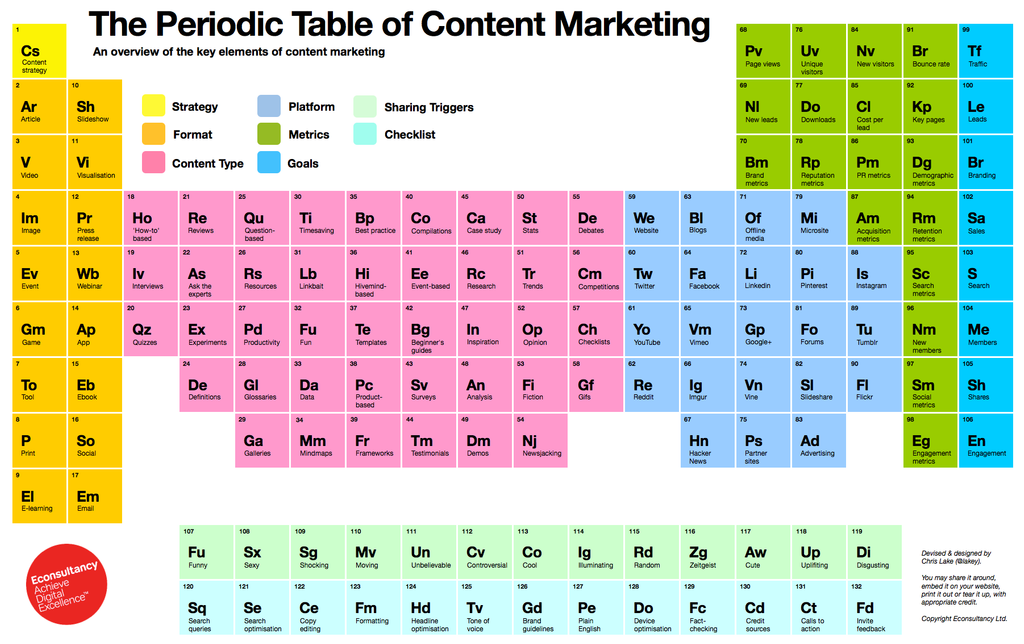 The periodic table of content marketing above can be used to illustrate each step of the process. Each colour is a different step. Work your way through the table picking out the best options from each colour to see how content marketing can best suit you.
strategy.
Decide what your goals are and what you would like to achieve and who you are targeting etc.
Format
Using the goals above work out what the best format is to present these on. For example, it may be best to do a video.
Content Type
What content type will get across your information best and also appeal to your target audience. If you chose video above, it may now be relevant to pick a 'How to based' content type to explain how to fit a specific engineering part etc.
Platform
Decide what platforms are best to use for your format and content type. At this stage it may be possible to use more than one platform. Carrying on with our 'How to Video' from the points above, we could choose websites, You Tube, Facebook, Twitter and several others. However, we do recommend that you focus on one at a time and make sure you execute it properly.
Metrics and Goals
Decide how best to track your results based on your goals that you should have established in point one.
Sharing Triggers
Be aware of what the main sharing triggers are and use these to your advantage.
Check your work.
Make sure you double check all of your work. Pay particular attention to all of the points on the table above.
Now you know what content marketing is, you can split it up into steps, which will make it very achievable to add into your marketing strategy. We do advise that this doesn't make up your full strategy but rather is used to compliment the marketing that you already have.
If you need any help with your content marketing or anything else, please get in touch and we will more than happy to point you in the right direction.
BACK TO LISTING