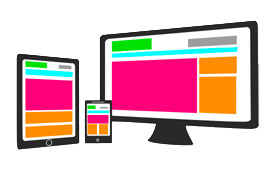 09 February 2015
To Be (responsive) or Not To Be (responsive), That Is the Question
These days, virtually all website providers are pushing responsive websites. So what exactly is a responsive website and do you really need one?
A responsive website is basically a site that alters its look and lay-out based on the size of screen the visitor views it on. So whether this is on a widescreen monitor, a tablet, or mobile phone, the website look and navigation is always optimised for that particular platform. It is impressive and useful technology and the argument put forward is that more and more people use their tablets and mobile devices to surf the internet, so having a responsive website to cater for this is vital.
But is it?
Research group Kleiner Perkins Caufield Byers, specialists in reviewing technology trends, announced in 2008 that "mobile to overtake fixed internet access by 2014". As it is now 2015, we can have a look back to see if that turned out to be true.
According to research done by SmartInsights in January 2015, the most popular devices used to search the internet are as follows:
PC/Laptop 91%
Smartphone (mobile) 80%
Tablet 47%
Games Console 37%
Smart TV 34%
Smart Watch 9%
Smart Wristband 7%
So even though desktop PC's are still top, smartphones especially have made significant inroads, and tablet usage too is on the up. However, given that 91% of the people survey still use their desktop PC, mobile use has hardly overtaken it.
It is important to note, of course, that a large number of people are "multiscreening", i.e. not limiting themselves to just one device to search online. In fact the number of people multiscreening is increasing as research has shown that in July 2014 53% of surveyed people were mutliscreening, whereas in December 2014 this had increased to 57%.
So even though the rise of mobile has not "killed off" the use of desktop PCs as predicted, more people are using other devices, as well as their PCs, to engage with websites.
So do I need a responsive website or don't I?
The answer is; it depends. It depends on your business, your products and your audience. If your business is targeting other businesses, chances are most of your audience will be using their work PCs to gain information. If on the other hand, you sell say, video games, the percentage of users using their console to visit your site is likely to be much higher than the norm.
The best way to identify what your audience is doing is checking your website's Google Analytics (or equivalent) and monitor the traffic breakdown per device, which will give you a clear indication of what device your customers use to visit your site. You can then determine your responsive needs accordingly!
BACK TO LISTING